The new Honda EU32i generator is incredibly versatile with high-spec features and an intelligent design that makes it easy to use, start and carry.
High output. Low emissions.
This newly developed, high-performance engine has built-in fuel-injection. It can be started with two simple steps – just turn the switch and pull the cord – and is also very fuel efficient, as it delivers an impressive amount of power whilst keeping emissions low.
Power you can rely on
Whether it's required for everyday and professional activities, or just the occasional emergency use, experience continuous performance from a highly dependable power supply that you can trust
Increased fuel efficiency
The generator has fuel-injection to optimise fuel use, and, when engaged, the built-in Eco Throttle automatically adjusts output to provide the correct amount of power required.
Lightest and most compact in its class
The newly developed design and compact, lightweight shape means you'll find the EU32i simple to carry and move to where you need power.
True versatility
A high-power generator that you can transport easily and run seamlessly through the partner app. From events and construction sites to caravans and baches, the EU32i is made for real life.
Bluetooth app
A clever smartphone app uses Bluetooth to keep you connected, allowing you to monitor, operate key functions, and even stop your generator remotely.
Intuitive App Control
The intelligent generator can even be paired with its own dedicated app. This allows you to connect your Android or iOS smartphone through Bluetooth and check the fuel level, access power output, control Eco Throttle and even activate a remote stop. The app also ensures you are notified of any operating warnings and has the capability to switch between generators at the touch of a button, allowing you to monitor several machines from your smartphone.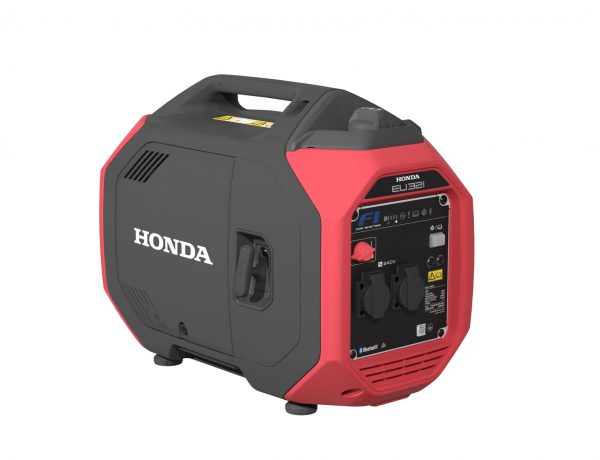 Engine
Mulitpole field rotation type (inverter)
Commercial Grade GX130 Fuel Injected Engine
Full transistorised ignition
Ignition primary circuit open
Continuous Operating Hours
3.3 hours – at rated load
Output
Operating Noise Level (At 7m)
Features
Large Capacity Air Cleaner