STRONG & POWERFUL
A truly impressive pump, the WB30XT volume water pump has been designed with the end-user in mind, for whatever project its needed for.
Drawing on decades of engineering advancements, the Honda 4-Stroke GX160 engine that powers the WB30XT ensures easy starting, functionality, outstanding fuel economy, low emissions and long-lasting durability.
With oil alert and rubber mounts, the full frame type provides stability and delivers smooth running with less vibration. The result is a reliable, long-lasting pump that will perform day in, day out.
1,100L/MIN PER MINUTE
With capacity to deliver 1,100 litres per minute, this 3″ Volume Water Pump has a maximum suction head of 8m and a maximum total head of 23m.
Like so many other Honda products, the WB30 starts 'first time every time' with Honda's famous one pull easy start system.
It runs on unleaded fuel, so you'll never have to mix oil and petrol again. The result? An environmentally-friendly pump with low emissions & fuel consumption.
Powerful output – Honda GX160 engine
Cast iron volute – Reduces case wear
Oil alert system – Shuts off engine when low oil is detected
Heavy duty full frame – Added protection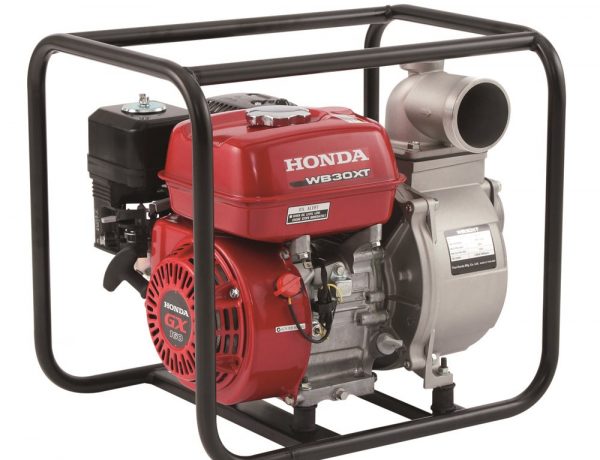 Performance
Self Priming Time (at 5m)
Dimensions, Weights and Capacities
Discharge Port Diameter (mm)
Suction Port Diameter (mm)