The XRM125 delivers a lightweight, versatile bike for around the farm that provides easy access for all farm workers to mount and dismount with its low seat height and step-through design.
The Programmed Fuel Injection (PGM-FI) system means that the engine performs well in a range of conditions, including at altitude and in cold weather.
The powerful headlight means that you can get the job done, even after dark. Additional under seat storage helps you to bring along the essentials. Strong braking from a front disc and rear drum, combine with a four speed rotary gearbox and centrifugal clutch system for a smooth ride.
With great mud protection, off-road tyres to get the power to the ground, and additional handle bar protection, the XRM125 is ready to deliver on farm.
ENGINE
Air-cooled Single-cylinder
PGM-FI (Programmed Fuel Injection)
TRANSMISSION
4 Speed Rotary with Centrifugal Clutch
WHEELS, SUSPENSION & BRAKES
Telescopic Fork (81mm travel)
DIMENSIONS & WEIGHT
1933mm(l) x 833mm (w) x 1049mm (h)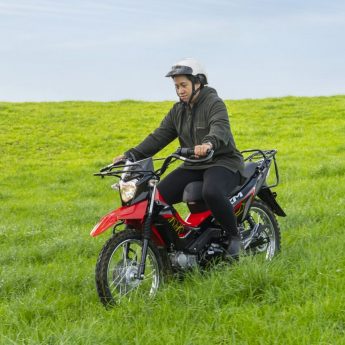 Low Seat Height
Low seat height and step-through design make the XRM125 ideal for everyone on the farm with easy mounting and dismounting.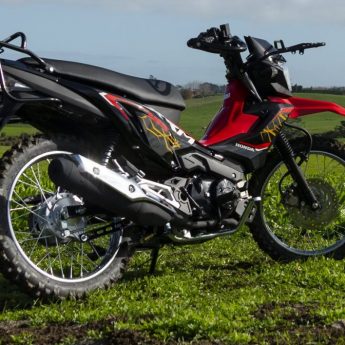 Fuel Injected
Programmed Fuel Injection (PGM-FI) delivers great performance across a range of temperatures and at altitude. The XRM125 will deliver year round.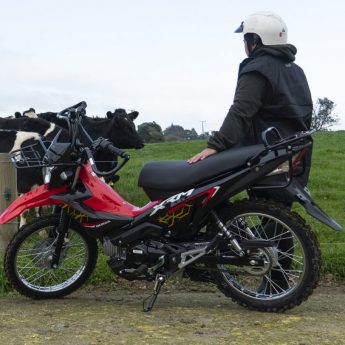 Lightweight
The lightweight design and centrifugal clutch the XRM125 makes it easy for all farm workers to get around the farm. Plus, with a powerful headlight for the after dark jobs.
Explore other bikes in the range