HRU216M3TBUH COMMERCIAL MOWER
PERFECT FOR CONTRACTORS
The HRU216M3 is tough, durable and the ultimate time saver by getting the job done right –and quickly. With a 21" rust-proof alloy deck and a generous 70-litre Dacron catcher bag, it is one of the biggest in Honda's range.
The shaft drive and heavy-duty gear box makes maintenance easier and less frequent. With no belts to replace this mower has an increased life expectancy.
Like all Honda lawnmowers the HRU216M3 features the 'first time every time' easy-start system. The pull cord is attached to the upper handles, so you don't have to bend all the way over to start the mower.
A front bar is incorporated into the design, which protects the cutting deck and front axle from being damaged. The convenient lift-down and tie-down point make transportation easy.
GXV160 POWER
The HRU216M3 features a gutsy 5.5 horsepower-class engine with cast-iron bore in the form of a GXV160. With decades of engine technology advancements to draw from, Honda is the world's largest engine manufacturer, so you know you're in good hands. The four-stroke GXV160 runs on unleaded petrol so no more fussy petrol/oil mixing like its two-stroke counterparts.
Advanced Four-Stroke Technology has less emissions and its economical on fuel so it's good for you and the environment.
MULCHING AND MOW-SAFE
Another feature of the HRU216M3 that makes it so user-friendly is its mulching capability. Simply slot the mulching plug into the mower chute and spend less time emptying the catcher bag.
The HRU216M3 also integrates Honda's Mow-Safe™ Blade Braking system, which allows you to drive the mower over paths, driveways and dusty areas. By releasing the Blade Brake lever the blades will stop within three seconds but the engine will continue to run.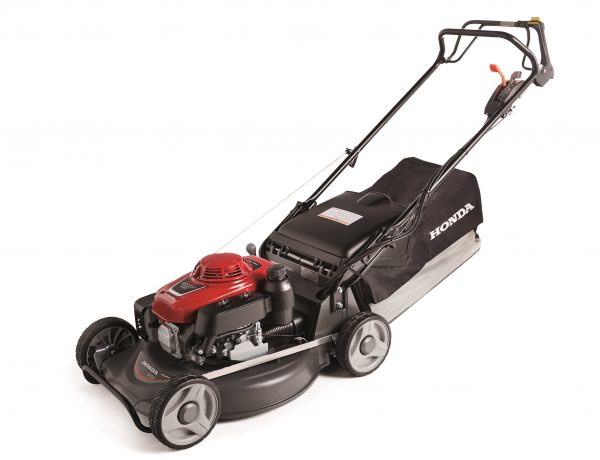 Output
Self Propelled – Hydrostatic 3 speed