HRX217K6HYUA DOMESTIC MOWER
SAFETY FIRST
If you want a mower with all the bells and whistles, look no further. Teamed with Honda's uncompromising stance on user safety, the HRX217K6HYUA has it all going for it.
The Mow-Safe Technology™ featured in the HRX217 lawnmower uses Blade Brake technology, stopping the blade within three seconds of releasing the handle allowing the engine to continue running. This allows you to step away from the mower to clear away hazards, empty the catcher or take a short break without having to restart the engine.
LIGHTWEIGHT NEXITE™ DECK
The HRX217 lawnmower features an incredibly tough NeXite™ 21" cutting deck. This high impact-resistant material does not dent, rust or corrode and because it's lightweight can easily manoeuvre around your lawn. Honda are so confident in NeXite™ that it comes with a lifetime guarantee.
VERSAMOW SYSTEM™
The HRX217 lawnmower features Honda's revolutionary Versamow System™, which allows you to mulch, bag, discharge, or shred leaves – or even a combination of mulching and bagging! Just slide the convenient Clip Director® knob to choose how much grass is bagged or mulched. It's the ultimate in convenience and versatility.
HYDROSTATIC CRUISE CONTROL
HRX217 lawnmower is fully self-propelled by Hydrostatic Cruise Control making your job incomparably easier. If you spend hours mowing or like to take it easier, the HRX217 lawnmower will do the work for you.
Also featured on the HRX217 is Honda's exclusive twin blade MicroCut® System, which uses four cutting surfaces instead of two. The results are evident in the ultra fine clippings and superior mulching. The clippings are finer than on a regular mower, you'll be able to mow up to 30% further before you have to empty the catcher bag and your lawn will look great!
THE LATEST HONDA ENGINE
Powered by the brand new, incredibly reliable and consistent the GCV200. A long-lasting, 5.6 horsepower-class engine, the one pull start, four-stroke GCV200 features overhead valve and overhead cam technology.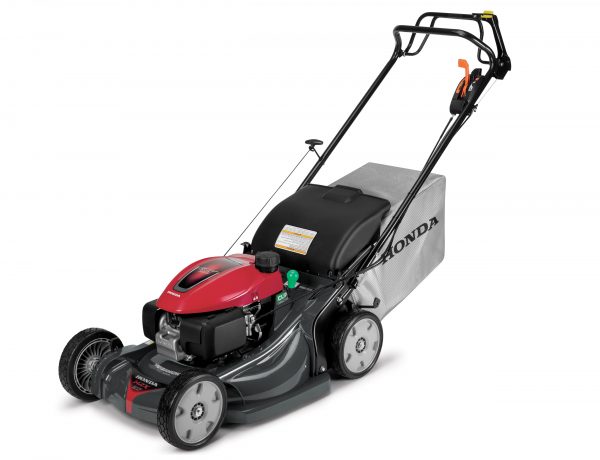 Output
Self Propelled – Hydrostatic
Features
Twin Blade Microcut Bar Blades