UMK435 BULL HANDLE BRUSH CUTTER
BUILT FOR CONTRACTORS
Ultra-compact and lightweight, the UMK435 Bull Handle Brush Cutter is easy to handle and will keep you working longer with less fatigue. Boasting the latest in Honda's ultra-compact, lightweight with its 4-stroke engine, the UMK435 delivers superb power and more torque than ever before. It's powered by Honda's Generation II GX35 Mini 4-Stroke engine, a revolutionary technology offering more power and using less oil than competitors.
TECHNOLOGY
Delivering excellent torque and performance via its Generation II, GX35 mini 4-Stroke engine, the UMK435 Bull can be used and stored across a full 360°. It features an ergonomically designed easy-grip bull handle and comes with added protection in the form of safety goggles and a single operator harness. And tough jobs are made easy with a 4-tooth metal blade plus a heavy duty tap-and-go nylon line head – perfect for large domestic use.
THE BEST IN THE BUSINESS
Honda leads the world with revolutionary mini 4-stroke engines that deliver more power and use less oil. Environmental impact is front of mind with the UMK435, with lower emissions, less noise and lower fuel consumption than its competitors. It also uses unleaded fuel, meaning you'll never have to mix messy oil and fuel again! Its auto-decompression, electronic ignition and anti-flood primer system guarantee the UMK435 starts 'first time every time'.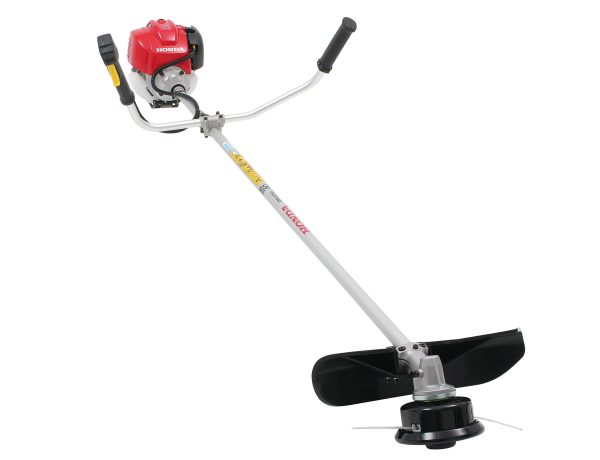 Dimensions
7kg (Dry, without cutting head)