UMK435 LOOP HANDLE BRUSH CUTTER
MORE TORQUE
Boasting the latest in Honda's ultra-compact, lightweight, 4-stroke engines, the UMK435 Loop Brushcutter delivers superb power and more torque than ever before. It does this via a Generation II, GX35 mini 4-Stroke engine, proving yet again, Honda leads the world in revolutionary engine technology. The UMK435 Loop starts 'first time every time' year-on-year.
PERFORMANCE FEATURES
The UMK435 Loop Brushcutter makes tough jobs easy with a 4-tooth metal blade plus a heavy-duty manual nylon line head.
It features full 360° 'any-side-up' operation, for use and storage in any position. Its ultra-compact, lightweight design means it's easier to handle and will keep you working longer with less fatigue. With its auto-decompression, electronic ignition and anti-flood primer system, it will deliver power, performance and reliability every time you need it – perfect for large domestic use.
ENVIRONMENTALLY-FRIENDLY
Honda prides itself on its superior engineering. The UMK435 Loop produces low emissions, less noise and smoke than its 2-stroke counterparts. It runs on regular unleaded fuel, so you'll never have to mix oil and petrol again.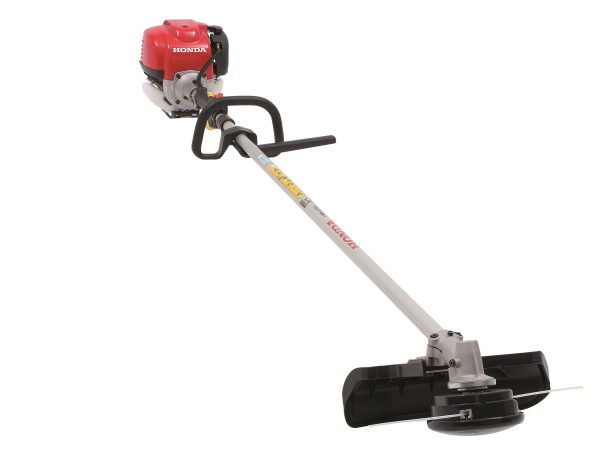 Dimensions
6.7kg (Dry, without cutting head)