UMK450 BULL HANDLE BRUSH CUTTER
BUILT FOR THE BIG JOBS
Ultra-compact and lightweight, the UMK450 bull handle brush cutter is going to get the toughest job done. The 4 stroke, GX50 engine is more than powerful enough to deal to large brush, gorse trunks, bamboo with ease. Plus it's easy to handle, given its lightweight, low noise engine, so you will be able to work longer with less fatigue.
The UMK450 delivers superb power and more torque than ever before due to being powered by Honda's GX50 Mini 4-Stroke engine, a revolutionary technology offering more power and using less oil than competitors.
TECHNOLOGY
The UMK450 bull handle can be used and stored across a full 360°. It features an ergonomically designed easy-grip bull handle and comes with added protection in the form of safety goggles, quick release operator harness that improves operator wellbeing.
The throttle system is even better with a 2 motion double trigger action to provide greater control and tough jobs are made easy with a 3-tooth metal blade. You have the option of fitting a heavy duty tap-and-go nylon line head – perfect for large area commercial use.
THE BEST IN THE BUSINESS
Honda leads the world with revolutionary mini 4-stroke engines that deliver more power and use less oil. Environmental impact is front of mind with the UMK450. This unit has lower emissions, operates at a lower decibel, and uses less fuel than other brands. No oil mixing and it comes with the knowledge that a Honda engine will start first time – every time! This is due to the auto-decompression, electronic ignition, and anti-flood primer system built into the UMK450.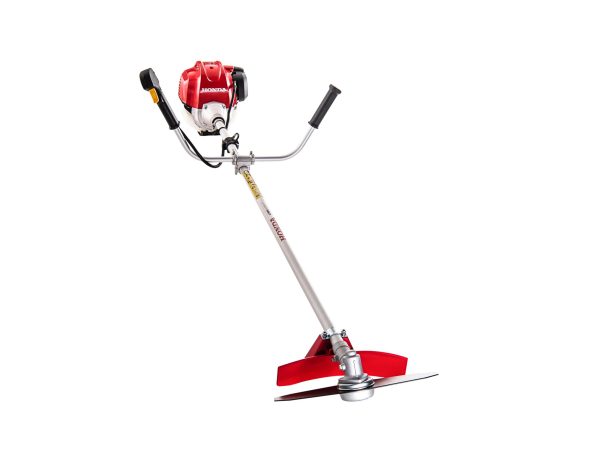 Dimensions
8.2kg (Dry, without cutting head)
Output
1.47kW (1.97hp) @ 7000 rpm