Starting from $4,895 inc gst
The CRF110F features a Keihin electronic fuel-injection system that's tuned for linear power delivery and precise throttle response.
The four-speed, clutch-less transmission makes for easy take-offs and shifting that quickly become comfortable for every rider. 97mm of rear-suspension travel and a extra seat-foam thickness (without increasing overall seat height) mean comfort whether sitting or standing.
In true Honda style, the CRF110F delivers legendary build quality and reliability, so the bike dependably fires up every time the starter button is pressed and does not stop until the tank runs dry—and when that moment is looming, the FI system provides a low-fuel warning light.
A big benefit for the young rider's "factory mechanic" is that the fuel-injection system eliminates the possibility of carburettor jets clogging with fuel residue if the motorcycle sits for an extended period—and reduced maintenance means more family time on the trail or track.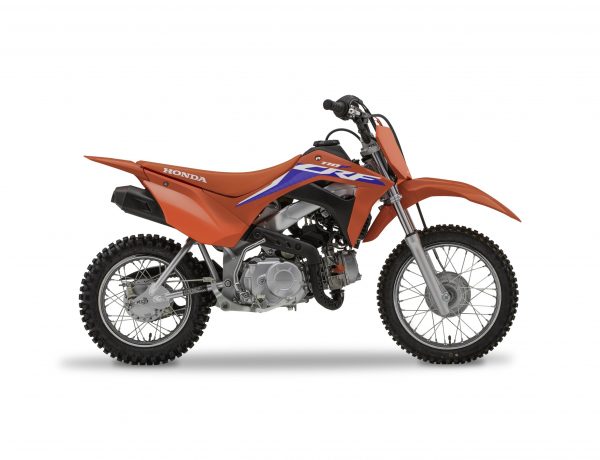 ENGINE
Air-cooled SOHC single-cylinder
Full transistorised ignition
TRANSMISSION
Electric starter with kick starter
4-speed, constant mesh with automatic clutch
WHEELS, SUSPENSION & BRAKES
Telescopic fork with 100mm travel
Swingarm with 97mm travel
DIMENSIONS & WEIGHT
1,540mm(L) x 675mm(W) x 925mm(H)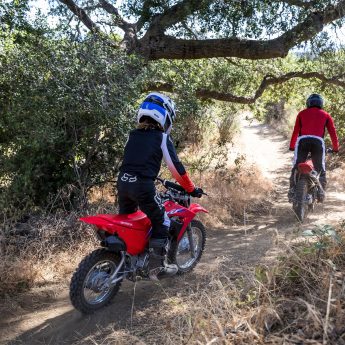 Fuel injection
The PGM-FI electronic fuel injection ensures a smooth flow of power for easier handling. Plus trouble-free operation and maintenance
Gearbox
Four speed gearbox with automatic clutch offers simple operation with easy, no-stall take offs.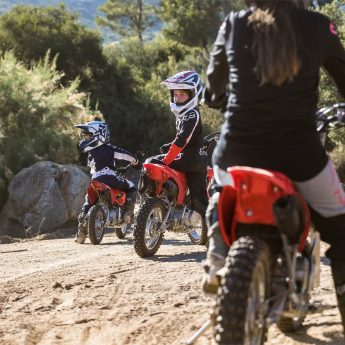 Confidence inspiring engine
Dependable 4-stroke air-cooled single-cylinder 109cc engine is tuned to lend confidence to beginner riders.
Explore other bikes in the range