The TRX420FA2 is the perfect model for those that want an economical, easy to operate and smooth shifting automatic ATV.
The automatic dual-clutch transmission (DCT) on the 420FA2 doesn't rely on unreliable drive belts, instead it has mechanical gears meaning it has the compact size and strength of a manual transmission, it's incredibly durable and provides excellent engine braking . An all-new override capability allows manual shifting even when in automatic mode which means you are in full control of your ATV, and new shift mapping delivers even smoother transitions between gears when in auto mode. When reversing, the new reverse-gear actuation mechanism makes shifting to reverse incredibly easy with a fully electronic, one-lever operation. Honda TraxLok allows you to select between 2WD and 4WD modes depending on the conditions. Elsewhere, the double-cradle steel frame provides the stiffness needed for precise handling and a smooth ride, 170mm of travel in both the front and rear suspension ensures a plush and controlled ride, and new guards extending the full length of the lower suspension arms provide full coverage of the driveshaft and outboard CV joints!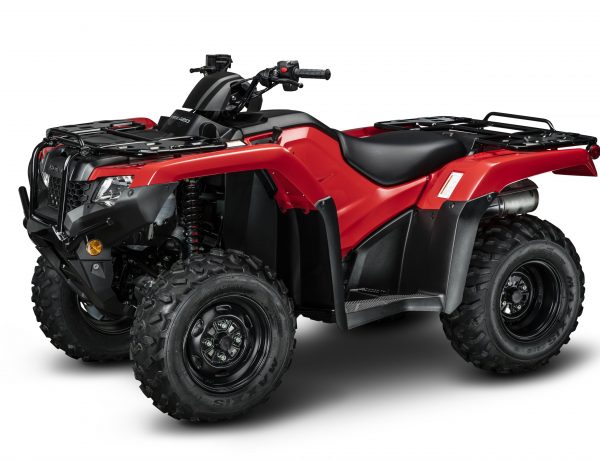 Engine
Liquid cooled OHV longitudinally mounted single cylinder, 4 stroke
Full transistorised with electronic advance
Programmed Fuel Injection(PGM-FI) – 34mm throttle body
TRANSMISSION
Electric with auxiliary recoil standard
Direct front and rear driveshafts with torque sensing front differential
Dual clutch automatic, 5-speed with reverse
WHEELS, SUSPENSION & BRAKES
Independent double wishbone; 170mm travel
Swing arm with single shock; 170mm travel
Dual hydraulic – 190mm discs
Single sealed – 160mm mechanical drum
DIMENSIONS & WEIGHT
14.7litres including 4.9litres reserve
2,104mm(L) x 1,205mm(W) x 1,174mm(H)
30kg Front rack – 60kg Rear rack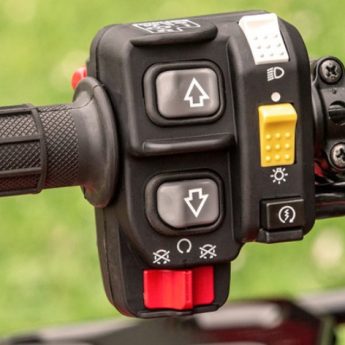 Manual Override
For 2020 the, all-new manual-override capability allows the driver to manually change gears even when in automatic mode. (The transmission reverts back to fully automatic mode after a few seconds.) This provides a new level of control, making it possible to downshift on corner entry or upshift on descents, for example.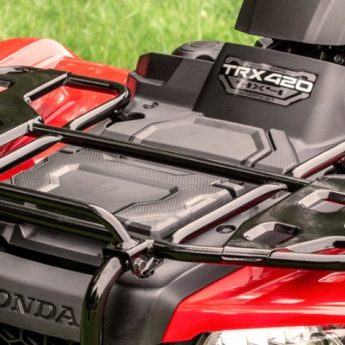 Cargo racks
Newly engineered front and rear cargo racks provide more area and accept new Honda Pro Connect accessories for smooth integration.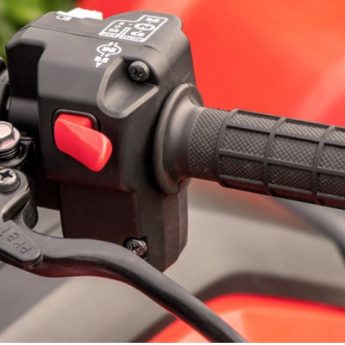 Reverse Gear Actuation
An all-new reverse-gear actuation mechanism for the TRX420FA2 Rancher model makes shifting to reverse a one-lever, fully electronic operation that is quicker, simpler and easier for all hand sizes.
Explore other bikes in the range