Starting from $22,592 inc gst
The TRX520FA6 is Honda's flagship ATV and with the new 518cc engine it now has even more power and torque to perform all the big tasks on farm. The exciting news though is a revised transmission which monitors engine rpm in real time to offer smooth, seamless shifting in auto mode.
The automatic dual-clutch transmission (DCT) features both automatic and manual modes, a hi-low range sub transmission and a new reverse switch to simplify the transition into and out of reverse. The improved engine RPM sensing system offers smoother and more seamless shifting between gears and there's also an override capability to allow manual shifting even when in automatic mode – giving the rider a new level of control and making it possible to downshift on corner entry or upshift manually.
In the looks department, the FA6 sports a redesigned grill and front bumper for a more aggressive, stylised look. It also comes with a handy new utility box and new carry rack design. New guards extend the full length of the lower suspension arms for full coverage of the driveshaft and outboard CV joints for even more under body protection. With a front diff lock and massive 600kg towing capacity this bike is made to tackle the big jobs.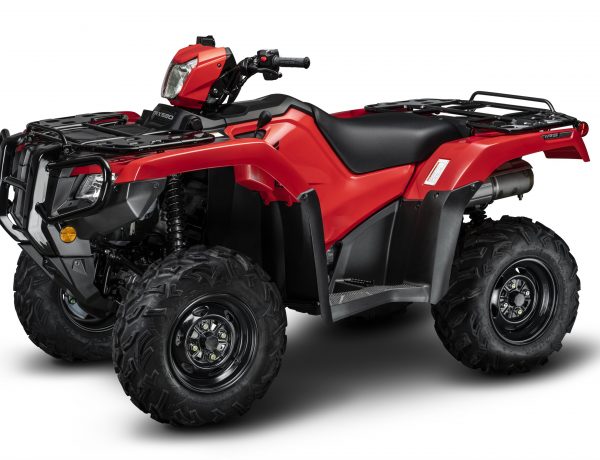 ENGINE
Liquid-cooled OHV longitudinally mounted single-cylinder, 4 stroke
Full-transistorised with electronic advance
Programmed Fuel Injection (PGM-FI) 36mm throttle body
TRANSMISSION
Electric with auxiliary recoil standard
Direct front and rear driveshafts w/ TraxLok® and locking front differential
Dual Clutch Automatic; 5-speed with reverse and High/Low
WHEELS, SUSPENSION & BRAKES
Independent double wishbone – 185mm of travel
Independent rear suspension – dual arm – 215mm of travel
Dual hydraulic – 190mm discs
Single hydraulic – 170mm disc
DIMENSIONS & WEIGHT
14.7litres incl 4.9litres reserve
2185mm(L) x 1205mm(W) x 1237 mm(H)
40kg Front rack – 85kg Rear rack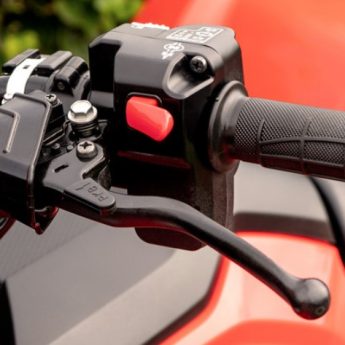 Reverse Gear Actuation
An all-new reverse-gear actuation mechanism for the TRX520FA6 Foreman model makes shifting to reverse a one-lever, fully electronic operation that is quicker, simpler and easier for all hand sizes.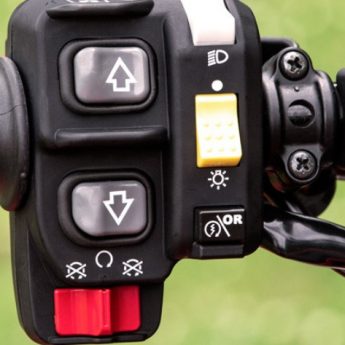 Manual Override
The all-new manual-override capability allows the rider to manually change gears even when in automatic mode. (The transmission reverts back to fully automatic mode after a few seconds.) This provides a new level of control, making it possible to downshift on corner entry or upshift manually.
Engine capacity
New larger displacement 518cc engine (a 43cc displacement increase) with updated mapping provides stronger power and torque where it's used most—in the low end and midrange—for quicker acceleration, better ascending and improved hauling and towing.
Explore other bikes in the range