Starting from $22,132 inc gst
There's big news this year for the Honda Foreman line-up.
It starts with a new, bigger 518cc engine, and continues with a host of other improvements. For those looking for a plush and smooth ride it's easy to choose the TRX520FM6. With independent rear suspension (IRS), a manual transmission and power steering, this is an unbelievably capable bike that will provide all-day comfort on the farm.
When you need a durable manual machine that can handle the toughest of terrain, and you also need a large towing capacity, the new TRX520FM6 is the perfect choice. The larger engine provides improved power and torque where you need it – in the low end and midrange – for quicker acceleration, better ascending and improved hauling, complementing the massive 600kg towing capacity. A handlebar-mounted switch makes it easy to select between two-wheel drive, four-wheel drive and four-wheel drive with the front differential locked.
The new 1.9L utility box with weatherproof cover on the front deck provides a second storage compartment, while the newly engineered front and rear cargo racks provide more loading options. New styling completes the package and provides a more aggressive stance, making the FM6 better than ever.
ENGINE
Liquid-cooled OHV longitudinally mounted single-cylinder, 4 stroke
Full-transistorised with electronic advance
Programmed Fuel Injection (PGM-FI) 36mm throttle body
TRANSMISSION
Electric with auxiliary recoil standard
Direct front and rear driveshafts w/ TraxLok® and locking front differential
Manual 5-speed with reverse
WHEELS, SUSPENSION & BRAKES
Independent double wishbone – 185mm of travel
Independent rear suspension – dual arm – 215mm of travel
Dual hydraulic – 190mm discs
Single hydraulic – 170mm disc
DIMENSIONS & WEIGHT
14.7litres incl 4.9litres reserve
2185mm(L) x 1205mm(W) x 1238 mm(H)
40kg Front rack – 85kg Rear rack
Engine capacity
New larger displacement 518cc engine (a 43cc displacement increase) with updated mapping provides stronger power and torque where it's used most—in the low end and midrange—for quicker acceleration, better ascending and improved hauling and towing.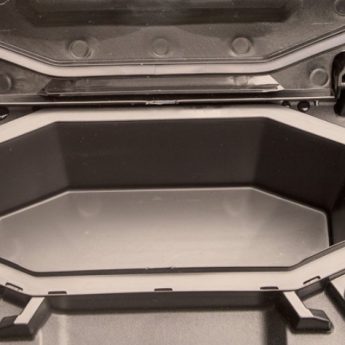 Utility Box
A 1.9-litre utility box with weatherproof cover is added to the front deck.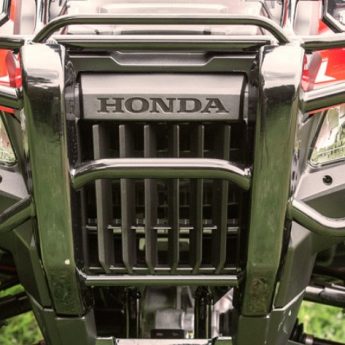 Front bumper and grill
Newly redesigned front bumper and grill further emphasises the Foreman's aggressive stance.
Explore other bikes in the range